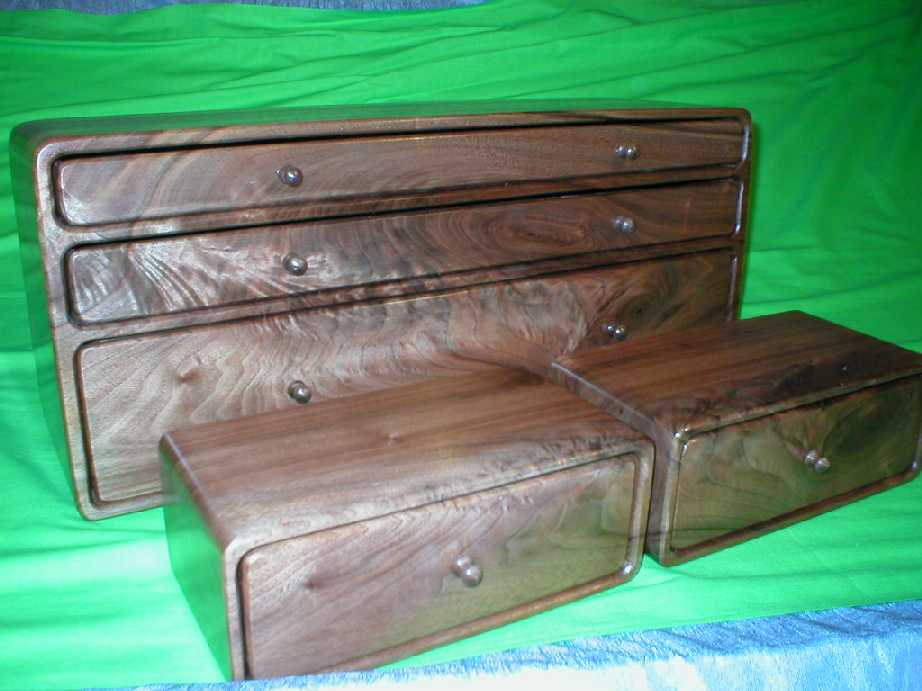 Welcome to our Shop.



Originally a metal worker, I took up woodworking when I moved to Kentucky in the early 80's and discovered the beautiful wood grains and colors of the hardwoods there, especially the Cherry and Walnut.
In 1989 I started, "

Wildwood Crafters

".

At one time, we would go to as many as one Art show per month. They were a lot of fun and gave us a chance to met everyone in person,
But, art shows have gotten very expensive. Between jury and booth fees, motel rooms, eating out and travel, it's real easy for it to cost us $ 1,000 per show.
Soooo, we decided it would be better for everyone, if we sold out of our house, went to small local shows and offer FREE SHIPPING on box orders of $40 or more, and we can do a FREE lay-a-way.
Of course you would always be welcome to stop by and see everything in person...
This is only part of what we have finished, Plus we can make them in any combination or size you would like.



 
 
Cherry pencil box, also available in combinations of cherry and walnut.
$ 20
  
  
Ornament or ring boxes of Walnut and Cherry.
(stock photo)
Click on photo for close-up pictures,
$ 20
Treasure box with lift out tray and dividers of solid cherry and available in walnut on cherry.
$ 35
2 box set of solid cherry and walnut.
5 1/2 x 3 1/2 x 4 inches deep.
$ 35
A 2 box set, solid cherry.
4 1/2 x 5 1/2 x 6 deep 
$ 45
   
>Medium size 2 box set of solid cherry with the companion box having a lift out tray.
9 x 4 x 5 1/2 deep
$ 65
Long single drawer box of solid cherry with large lift out tray and dividers in the drawer.
12 1/2 x 3 1/2 x 5 1/2 deep
$ 95
Large 2 box set of solid cherry with the companion box having dividers.
15 x 4 1/2 x 6 deep  Click on photo for close-up pictures,
$ 150
 
Medium size jewelry box of walnut on cherry with a large lift out tray and lots of dividers in both the top and bottom drawers. .
14 x 5 3/4 x 6 deep   Click on photo for close-up pictures.
$ 150
A good sized 3 drawer box of walnut on a slightly wormy cherry. All 3 drawers are left open and lined with green felt.
15 1/2 x 6 x 6 deep Click on photo for close-up pictures.
$ 150
The 'Pyramid' solid cherry with lots of storage.
(actual photo) Click on photo for close-up pictures.
SOLD
4 drawer with companion box of very fancy crotch wood black walnut.
(actual photo) Click on photo for close-up pictures,  
SOLD
The 'Heart' jewelry chest of solid cherry, every drawer has at least one lift-out tray with dividers underneath, tons of little spaces. This one is number 3.
22 x 20 x 6 1/4 deep.  Click on photo for close-up pictures,
$ 550

Feel free to: E-Mail: Chris and Donna Jensen
PO Box 3
Kensington, Ks. 66951

Cell, 785-476-8081
chris@wildwoodcrafters.com
facebook.com/people/Kangen-Chris-Jensen
https://alkalinewaterkansas.wordpress.com/
http://www.alkaline-antioxidant-water.com
---
Copyright © 2000 - Wildwood Crafters
All Rights Reserved
Webmaster: Us - chris@wildwoodcrafters.com