Over the next few years we did it all from roofing, remodeling to building very large pole and red iron buildings, plus a few log homes.
New cabinets in our house out of Ky. Cherry. The counter is a 4 ft slide out cutting board.
I have always like the wood work in boats and had an opportunity to buy a good sized one in need of repair. Donna says "We always live in a construction site" and she is right, we like it and we always have something to do.
Thanksgiving of 2008 we bought a fixer-upper boat in California. Here are some before and after pictures of the 42 ft. 1938 Monk designed yacht that we restored/remodeled.
We were a live-aboard with trips back and forth to Kansas. That is where our woodshop is.
It's a beautiful boat, a great place to be, a huge amount of living space. (Basically a 2 story, 2 bedroom, full living room, large galley with dinette area, onboard shower, bathroom, 2 covered decks, a forward sun deck, enclosed pilothouse, floating apartment that you can take out fishing.
Like living in a work of art and big enough for a family of 4 or 5.
Starting with the as found picture and us coming into Moss Landing Harbor, Monterey Bay. After spending part of December and January sailing it up the coast from southern California between storms. Never piloted a boat in open ocean before, definitely was an adventure.
Being a Ed Monk Sr. design and built in 1938 ENTIRELY of mahogany, the hull was in great shape. The problems were where fresh water was allowed to get in and in those areas we either replaced the mahogany or remodeled with Kentucky Cherry or Black Walnut. Must see, check out the pictures.
Located in Moss Landing Harbor, on C - dock,in the heart of Monterey Bay.
Now for pictures,
This was August 10th 2013, It was just hauled out and bottom painted with the best 65% copper paint in July 2013.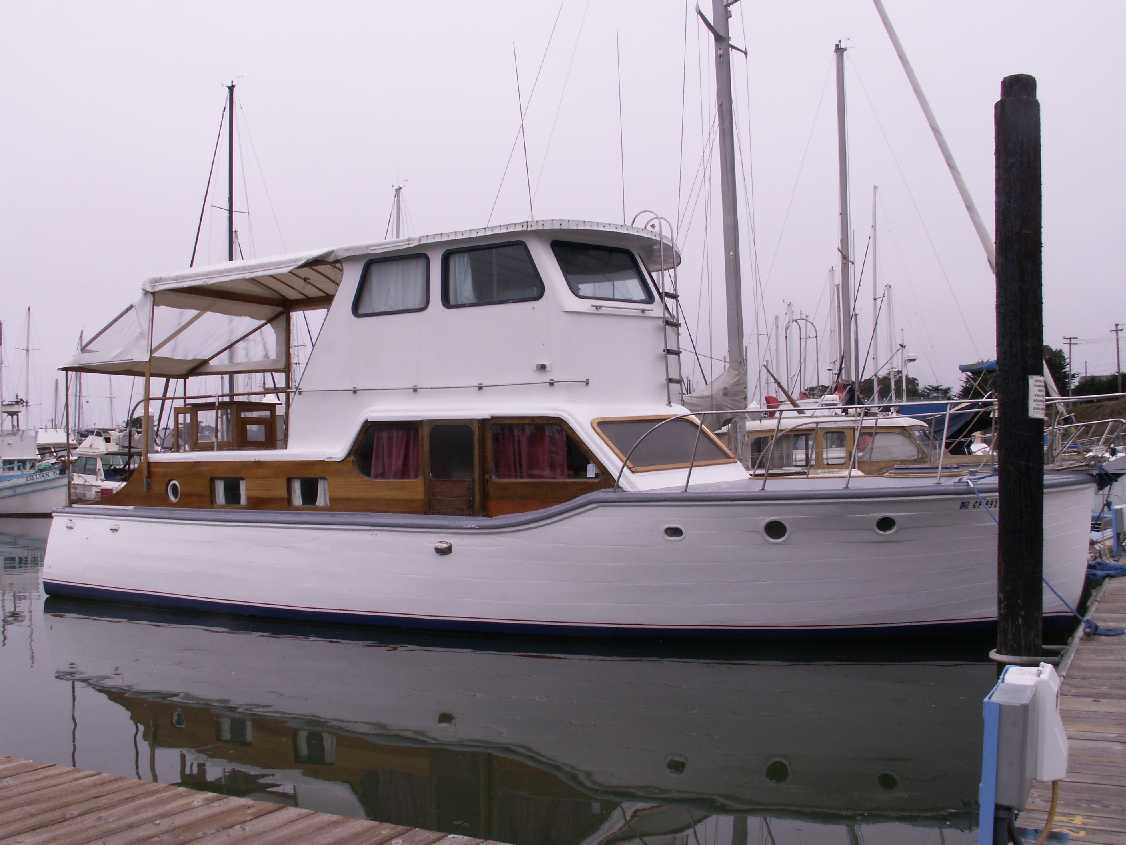 There was a lot of rot. We ended up cutting off the entire upper deck and replaced this section on the side.
Port side of Galley as found and picture of the roof/upper deck being removed during renovation. Starboard side.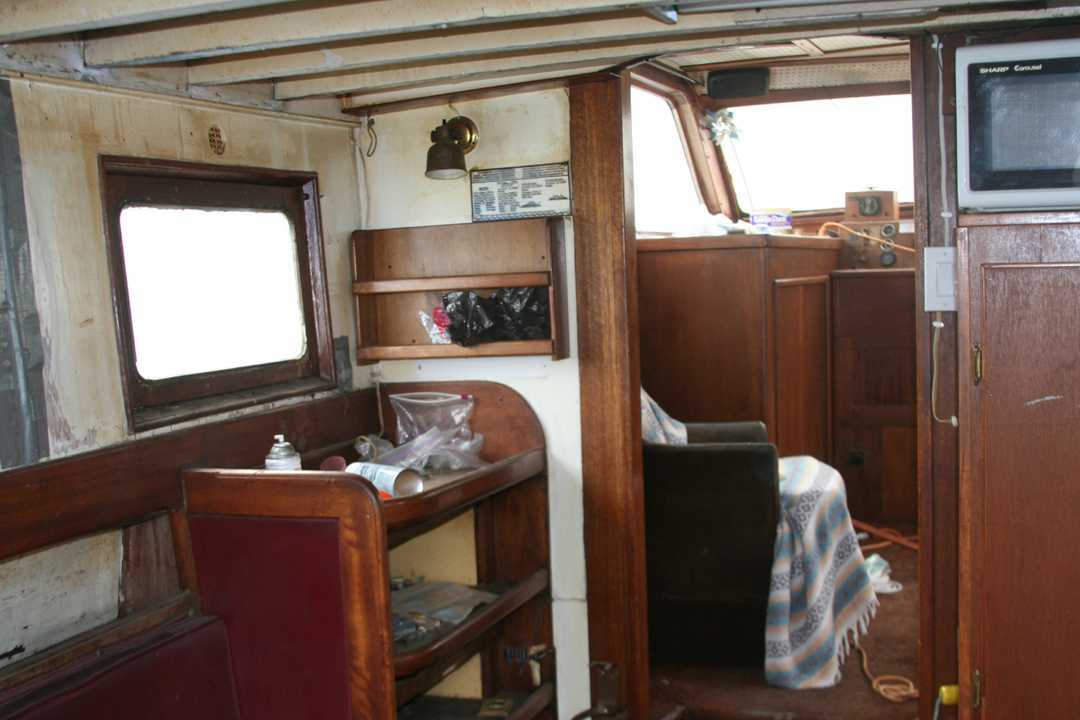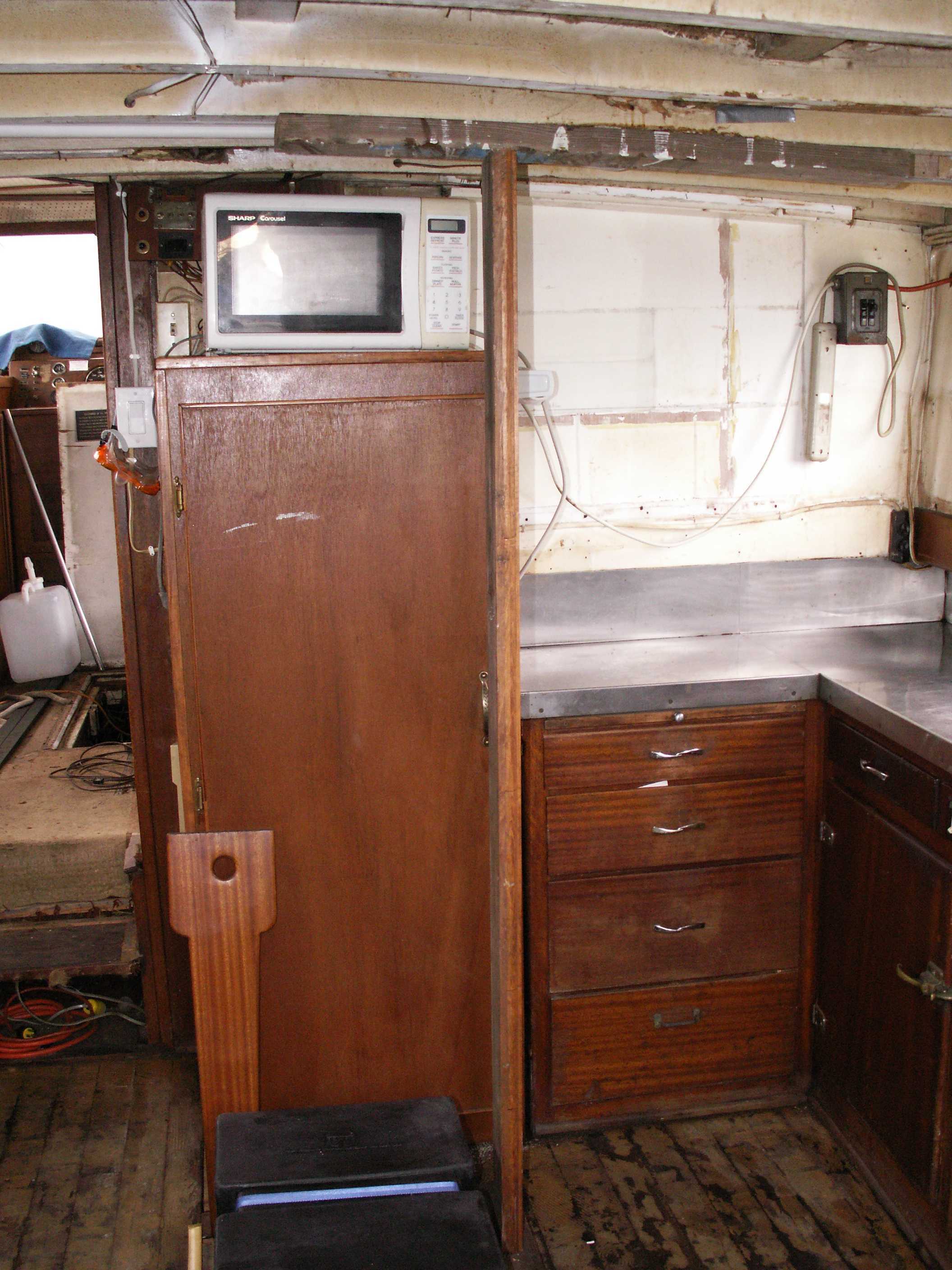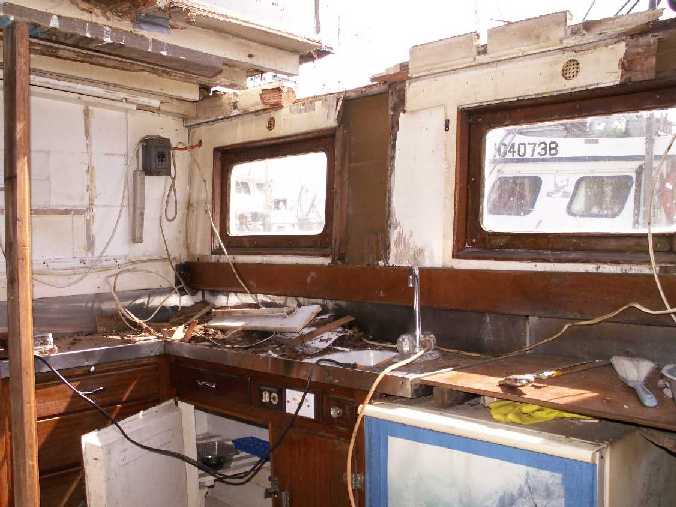 The galley has been completely redone in Kentucky Cherry, the dropleaf table is spalted hardrock maple.
I was able to reuse the original Stainless steel counter top.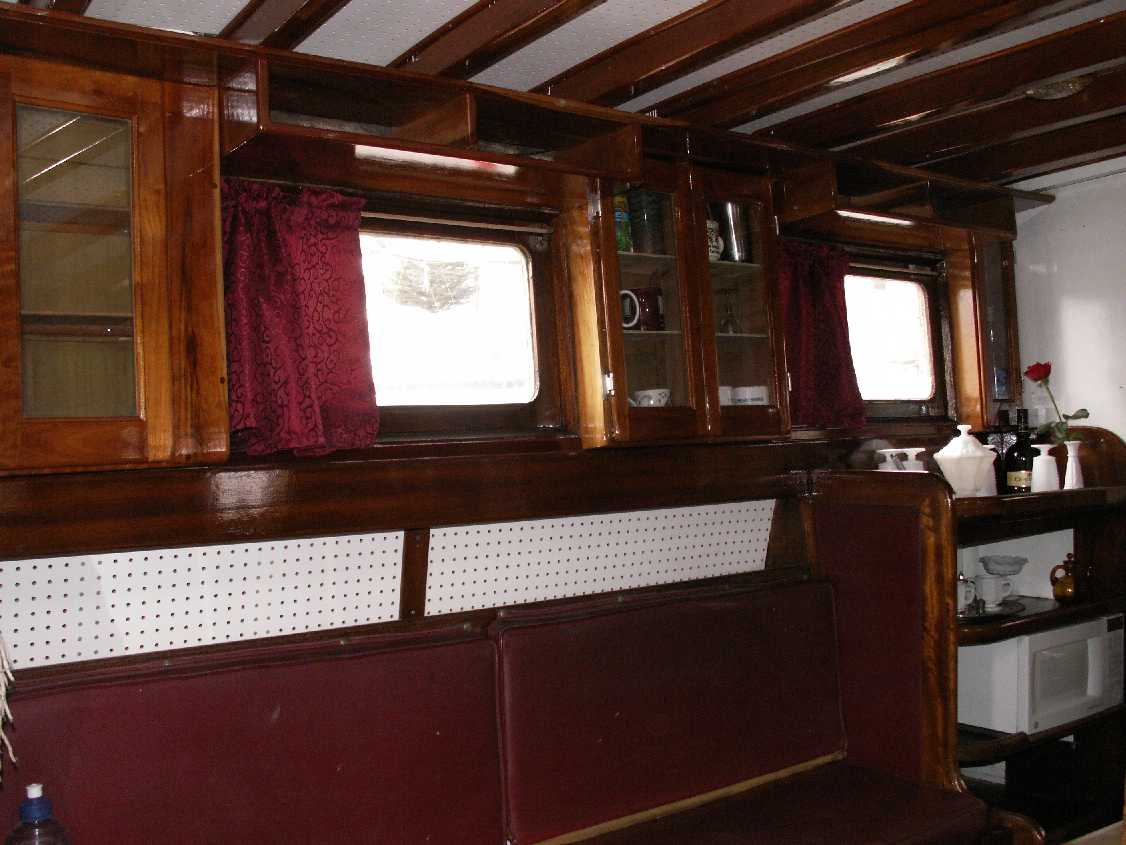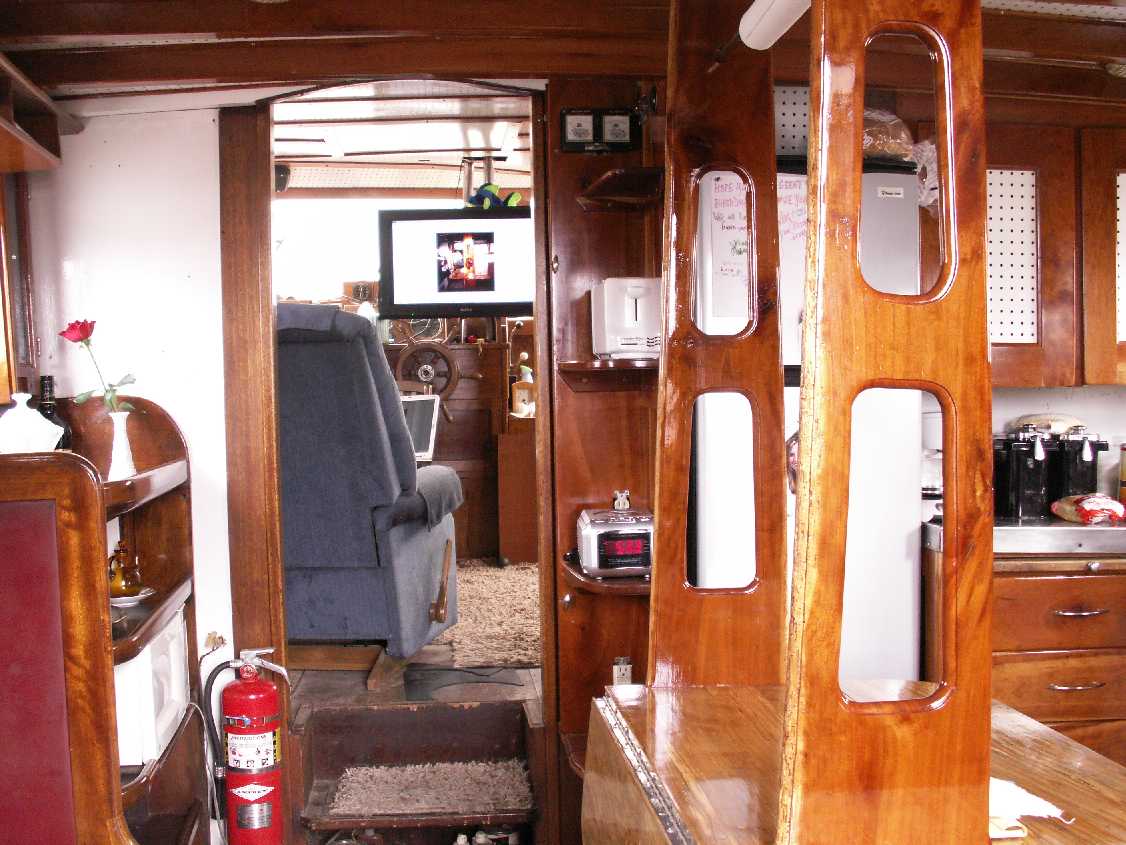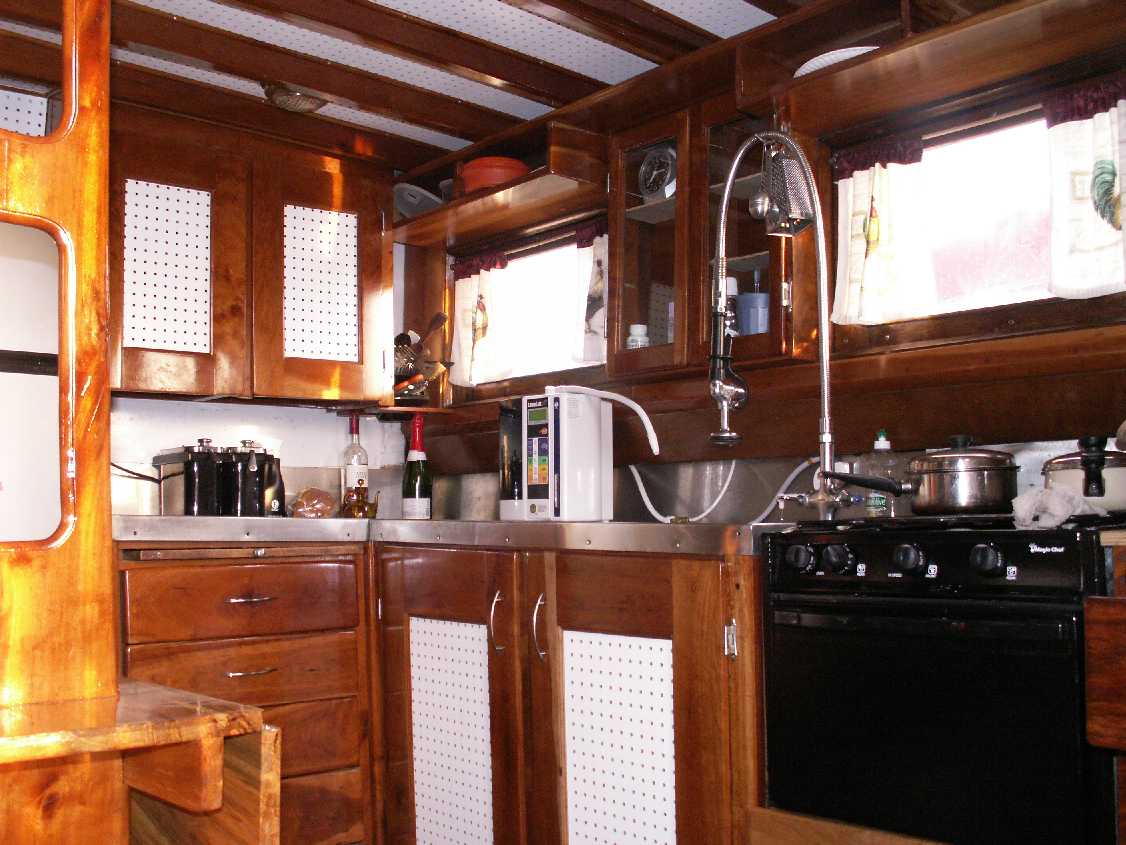 All plumbing has been replaced and there is a 6 gallon 110v water heater.
A refrigerator with separate freezer door.
3 burner gas stove with automatic oven.
Microwave.
Lots of storage.
looking down onto the lower rear deck.Removed the old tanks under the rear deck and completely rebuilt that area.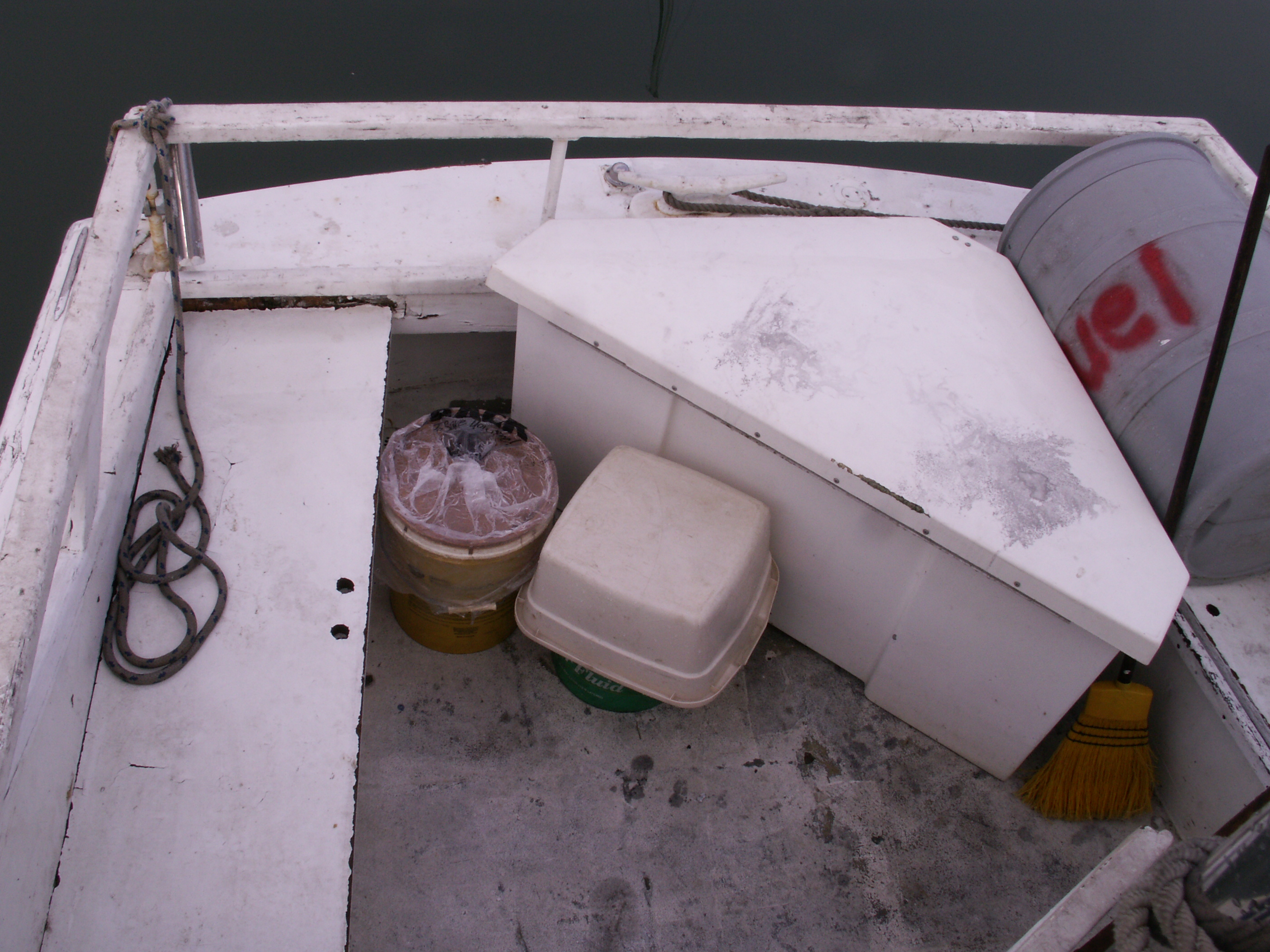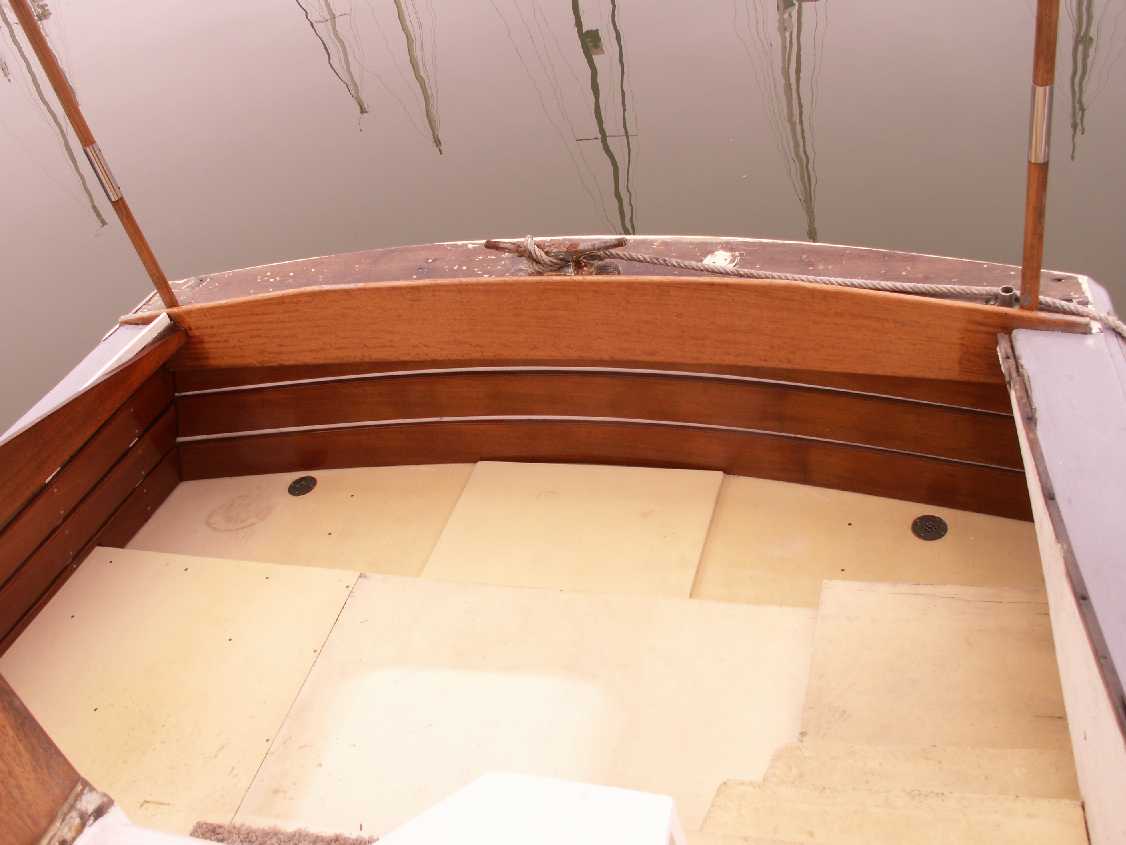 Pilothouse as found. A close up of the wheel and dash. Looking out the pilothouse, Hwy 1 is in the distance out the window.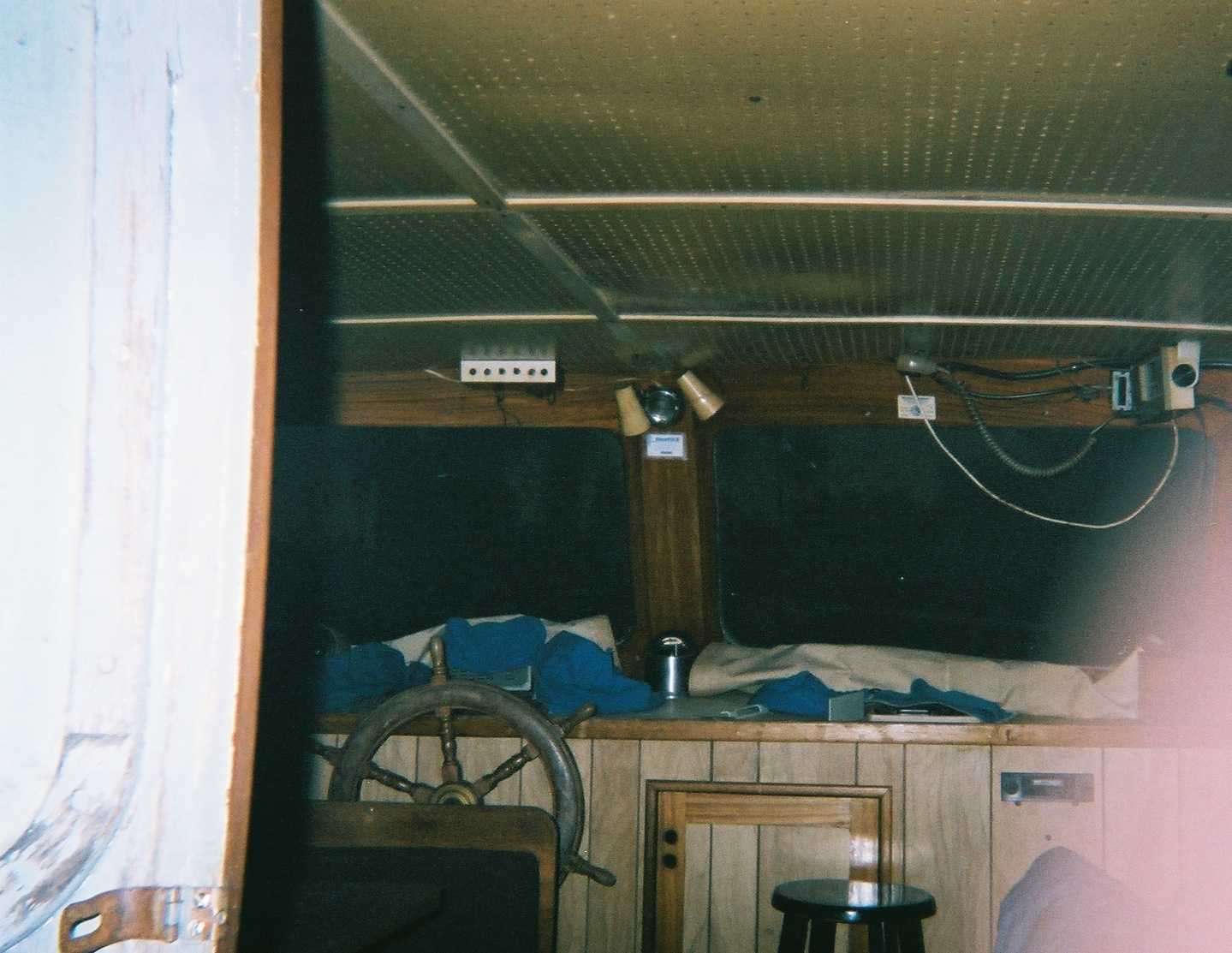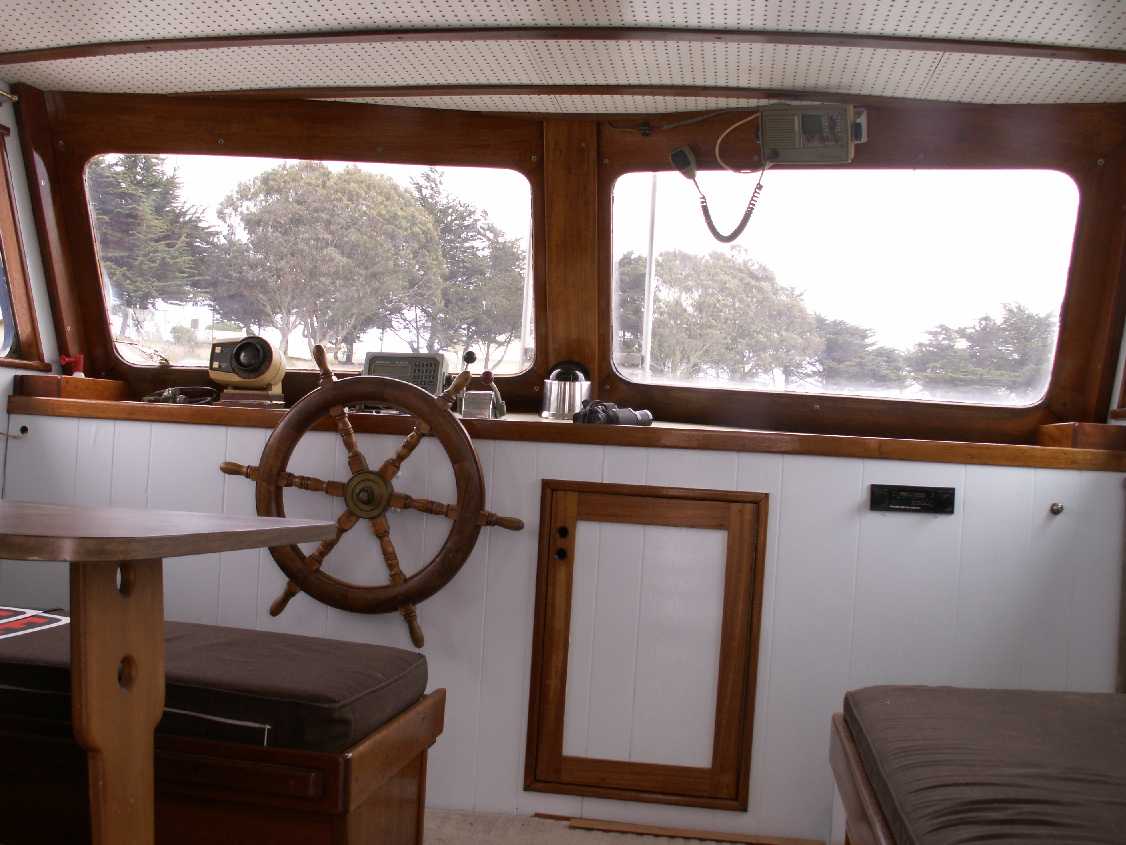 This is just some of what we did to the, 'R' Escape.
We than got a Columbia 30 ft sailboat that had sunk, in harbor. It was because of a water inlet valve that had not been shut off. We did not get it till 2 yrs after, so the engine was completely frozen. We took everything apart that would come apart and refinished all the woodwork. Here are some before and after pictures. We really had a good time with this one and finished it very quickly.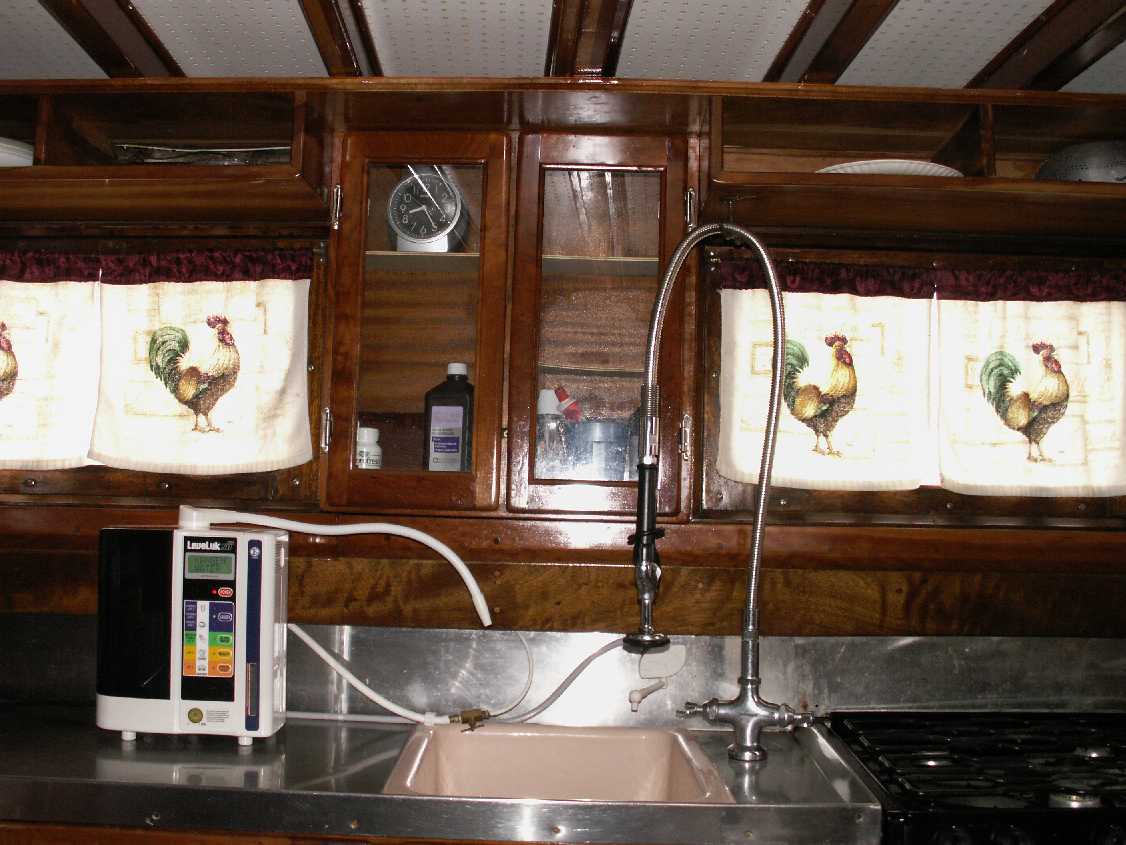 The sink area on the 'R' Escape, and our 'Alkaline Antioxidant Water' machine.
(Shaping the transition piece from the stainless counter to the cabinets was a little tricky, but I managed to keep air flow moving up behind the cabinets and out the top cubby holes, even the white board is spaced down for air flow.)
For more info on the water machine, click
Here.
This machine and company have been a life saver for us in several ways.
I just turned 67 and since getting this machine, I not only don't hurt anymore, Donna is off pain meds for the first time in 35 years, her colesteral is down 100 points, blood pressure down, weight off and energy up.
We are just plain healthier.
And by just giving away FREE water to people, they experience health improvements of their own and they in turn want a machine and we get a commission and are now earning a good living and helping people feel and live better.
If you would like to do the same just give us a call or email. We will help you all we can.
Chris and Donna Jensen
PO Box 3
Kensington, Ks. 66951
Cell, 785-476-8081
Sometimes it rings, sometimes it doesn't.
Email, chris@wildwoodcrafters.com